Farmhouses in Delhi
South Delhi Farmhouses and More
We are South Delhi's premium farmhouse, villas and country homes portal. We specialize in buying, selling and leasing of luxurious farmhouses and plots in South Delhi's Farmhouse Belt.
History of Delhi Farmhouses
The concept of farmhouses or country homes which was more of a outhouse in a plot of land has come up in the 1960's. As the farmhouses were very limited so there were no immediate building laws and guidelines.
It was only in 1980's , a trend came into South Delhi through which Farm Houses Gained the recognition of being first homes instead of just holiday ones
It became the trend for the high class or high net work individuals to buy this new fascination called as farmhouses or country villas.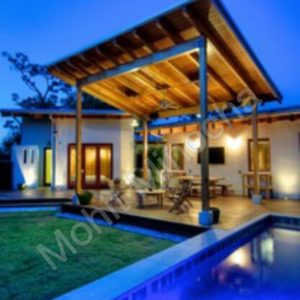 Near Mehrauli Gurgaon Road
Vasant Kunj

Green Avenue

Gadaipur

DLF Chattarpur

Ansal Satbari

Ghitorni – Shakuntla Farms and Silver Oak

Radhey Mohan Drive

Asola

Bhati

Mother Teresa Drive

Dera Mandi
Near NH-8
Westend Greens

Pushpanjali

Rajokri

Bijwasan

Kapasera

Kanganheri

Jhatikra
Current Scenerio of Farmhouses
The Delhi Master Plan of 2021 allows for Redevelopment of these Farmhouses as "Country Homes" or "Country Villas" or Low Density Residential Areas (LDRA) with minimum plot size of 1 acre and 2 to 3 dwelling units with upto 30% FAR. Also, old farmhouses with unauthorized construction are now being regularized under the New Delhi Country Home Policy.
Benefits of Country Living
Fresh Air, Wide Open Spaces, A Relaxed Pace of Life
Vitamin G – It stands for Greenary, Trees, Lawns which farmhouses has in abundance. People living in country homes experience much lesser levels of air pollution due to improved air quality.
Being Landowner – Most people dream of land owning, you are the sole land owner in farmhouses in camparison to shared builder flats.
Privacy – Lesser traffic, more chances to step out of your homes without being seen by others. Best part is that you don't have to meet anyone if you do not want to and often do not hear a vehicle driving by for the whole day.
Close to Mother Nature – In farmhouses you are woken up by the pleasant sounds of the birds rather than by the noise from the nearby traffic.
Open Spaces – People living in builder flats often lack open spaces, Children can play with you in open rather than spending time on computers / television…
Ability to Grow Organic Food – You can easily grow organic / pesticides free fruits and vegetables for self consumption.
SouthDelhiFloors.com Farms Services
Are you looking to Buy a farmhouse for sale in Delhi? Your search ends here, As we are One Stop Destination for Delhi Farms. Just browse through all the listings below for farmhouses and farm properties to purchase a farmhouse in Delhi that will suit your budget, taste and requirement.
As your preferred realtors, we help you in buying and selling of farmhouses and smaller plots in South Delhi Farmhouses Belts.
We Assist in :
Location Choice

Property Selection

Due Dillegence

Appropriate Valuation

Best Priced Negotiations

Documentation

Smooth Transactions
Available Farmhouses in Delhi :
Delhi's One Acre Farmhouse Policy
DDA has reduced the minimum plot area for Farm House/LDRP from 2.5 acres to 1 acre; vide S.O.No – 1199(E), on 10th May, 2013.
The concept of Country Homes or Farm House – which was a mere a outhouse in the field, has started in the 1960's. As the Farm Houses were very limited, so there was no requirement of formulating any building bye laws.
In the 1970's and 1980's land was a lucrative investment avenue. Over the passage of time, in the late 1980's till 2003, a trend came in South Delhi with which, Farmhouses gained popularity of being the High Net Worth Individual's First Homes.
Earlier only 100 Sq. Meters was allowed on a 2.5 Acres Land Parcel, which was not adequate and irrelevant. Nevertheless, Builtup areas was continually increasing. The current estimates in most of the dwelling units are approximately 7,000 to 20,000 Sq. Ft.
Now, the government (Ministry of Urban Development) has taken an important and practical step to revise the Farm House Policy.
With the new notification, the earlier term Farm House (a dwelling house on farm) has been now termed as Low Density Residential Plots. As per the new policy the existing Farm Houses in the urban extension would be regularized. The new Low Density Residential Plots are to be permitted only in the defined villages under the green belt and the Low Density Residential Areas defined in the Urban Extension.
23 villages have been declared as the Low Density Residential Area (LDRA) in Urban Extension by the Ministry of Urban Development; vide S.O.No – 1744(E), on 18th June, 2013.
How LDRA (Low Density Residential Area) is defined / why is LDRA?
The majority of Farm House in the urban extension areas is located in lands where ground water has already been severely depleted or close to such depletion. Further, the intensification of residential density and heavy additional load on civic infrastructure such as Drainage, water supply, Parking and Sewerage etc. is highly undesirable in such areas from environmental considerations. Therefore, the villages containing existing Farm Houses clusters are notified as "Low Density Residential Area."
Before and After :
Defination –
Earlier – Farmhouse as a dwelling house on farm
Now – Low Density Residential Plots
---
Maximum Height –
Earlier – 6 Meters Single Storey
Now – 12 Meters
---
FAR –
Earlier – 100 Meters
Now – The Delhi Development Authority (DDA) has also allowed a higher floor area ratio (FAR) by permitting a built-up area of almost 10,000 square feet.