Ultra Luxurious Builder Floors in South Delhi Posh Localities
Maximum Options | 3/4/5 Bedrooms Flats | Projects of Top South Delhi Builders | Ready | Booking | Under Construction Deals
Looking For Builder Floors in South Delhi ?
Look No Further – Contact The Specialists at 9999004511
Browse all types of Builder Floors for Selling and Rental in South Delhi, As a specialist,We can provide you a Premium Builder Floor Property in affordable prices that comes under your budget. Get instant quotes from us…Our Realty Expert Mohit Minocha is Online Even Now!!!
An independent builder floor apartment is a residential unit in a low-rise independent building that has a few other flats. The number of floors is generally Four ie. Basement+Ground Floor, First Floor, Second Floor and Top Floor with Terrace Garden.
Such a builder flat can be developed by the builder on its own or in collaboration with the plot / property owner.
Buying a builder floor, can be a life-changing experience.
South Delhi Builders –
Most builder floors are built by around a dozen premium builders of South Delhi, Either builder makes an outright purchase of the property or enters into a collaboration with the land owner, which is beneficial for both as builder makes profit and owner gets a brand new swanky property without spending anything.
Interesting Fact About Builder Floors –
As land prices account for around 65-75 % of the cost of property in posh localities of South Delhi, So it makes it viable to spend lavishly on the construction quality.
Registeration –
The sale of a builder floor should be registered with the local registration office after payment of duty.
Registeration charges :
4% For Female , 5 % Joint Ownership Male-Female and 6% For Male
Also, Additional 1% is to be paid at the registrar office.
Payment Terms –
If the project is near completion, the builder expects the payment within around a month or two, whereas for booking / under-construction builders, the schedule can be construction linked…..ie 25% Booking Stage + 25% on completion of structure + 25% on the completion of flooring and final 25% on final possession.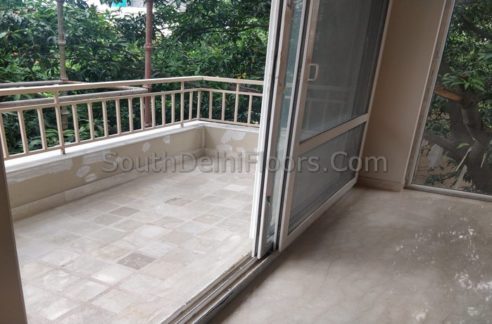 Basement Ground Duplex in GK-1, 1000 Yards, 5 Spacious… More Details
22.50Cr
Ultra Modern Features :
Italian Marble Flooring

Lift

Power Backup

Fully Air-Conditioned

Italian / German Modular Kitchen

Designer False Ceilings

Marvelous Facades

Servant Quaters

Ear Marked Stilt car Parkings

Double Glazed Sound Proof Window Glass

Weather Proof UPVC Windows
Top Builders Under One Roof –
Katarias

Gemstar

Espace Homes

S.Shalu Constructions

Many More
Exclusivity –
There are separate connections for water and electercity, Seprate under-ground as well as over-head water tanks, earmarked parking bays / Seprate Driveways and in large sized plots, Builders even offer seprate lifts for each of the apartments.
Due Diligence –
We at Southdelhifloors.com can help you in verifying the title of the property…we have regular business with best real estate advocates in town for the same….
The building plan should be approved and the FAR (floor area ratio) should be within the specified limit for the area, in accordance with the authorities concerned.
The builder usually takes the permissions from concerned authorities such as Form No's B-1, B-2 and in some case Completion Certificates which shows no violation has been done during the construction.
How to go about it –
Check property title
Check Layout Plans / B-1,B-2 Forms
Builder's Reputation should be credible
Enroll services of experienced real estate company such as Southdelhifloors (More than 35 years of first hand realty experience)
Verify the prices of similar floors in the area
Enquire the circle rates (Base Prices Fixed By The Government)
Call Now at 9811115505 to start your property search