South Delhi Real Estate Positivity : Premium Delhi areas expect a spike in sales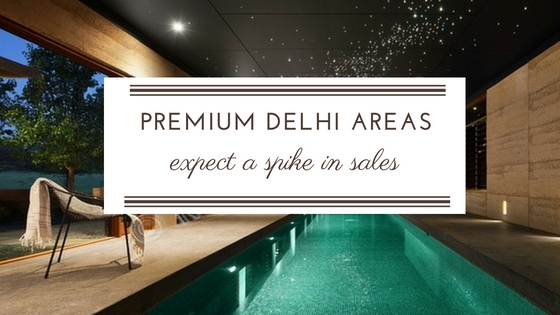 For the premium market in Capital Delhi, increasing queries from potential homebuyers have given hope to stakeholders that the auspicious nine-day Navratra period leading to the festival of Dussehra, followed by Diwali, will see a peak in property transactions.
Land and property transactions are known to increase during this period as people believe that big-ticket deals bring them luck and prosperity. While market sentiments were low last year, property agents are upbeat this year and say that compared to last year, prices have already increased by 10% to 15% in Vasant Vihar, Shanti Niketan and West End on the one side and Golf Links, Jor Bagh and Sunder Nagar on the other.
The number of queries by potential buyers, including industrialists, politicians and lawyers, on availability of properties, has given hope to the agents.
Prices of the properties available range from Rs 9 crore to a whopping Rs 300 crore. In Sunder Nagar, an 866 sq yard property has price tags of Rs 90 crore to Rs 125 crore, depending on the location and the type of construction. In Golf Links, the initial demand of the owner of a 2,140 sq yard property was Rs 300 crore
The premium market is also saturated. That's why, in Vasant Vihar, Shanti Niketan, West End and Chanakyapuri, properties for sale are expected to be snatched up quickly, says Sudarshan Sharma of SDR Real Estate Agents. Business families, non-resident Indians (NRIs) and mostly self-users are on the lookout for posh addresses. As of now, only half-a-dozen floors are available in Vasant Vihar and a few in Shanti Niketan and West End. The prices are up 15% as compared to last year.
In Vasant Vihar, a single floor in a 400 sq yard area costs between Rs 8 crore and Rs 9 crore while a 600 sq yard priced between Rs 13 crore and Rs 16 crore depending on the location and structure. In the posh West End, a 500 sq yard floor is priced at Rs 16 crore and an 800 sq yard property is up for sale for anything between Rs 20 crore and Rs 24 crore. In Shanti Niketan, a 1,200 sq yard floor is selling for anything between Rs 25 crore and Rs 28 crore. The farmhouse areas in South Delhi are also expected to see a spike in sales.
Tarun Nayar, property agent, says all through the festive season, till the end of the year, the number of property transactions is likely to go up. The highest price peg was Rs 40 crore for a one-acre farmhouse land in Western Greens and the lowest of Rs 5 crore to Rs 6 crore in Dera Mandi, Nayar says. The period from Navratra, the festive time coinciding with the winter months till January is the busiest for property agents. This is also the time when NRIs take their winter break and while here, invest in properties.
SOURCE : http://www.hindustantimes.com/real-estate/premium-delhi-areas-expect-a-spike-in-sales/story-gEtdOQW1N3C7lnTm59LcxI.html