Property Buying in Delhi – Understand a Buying Offer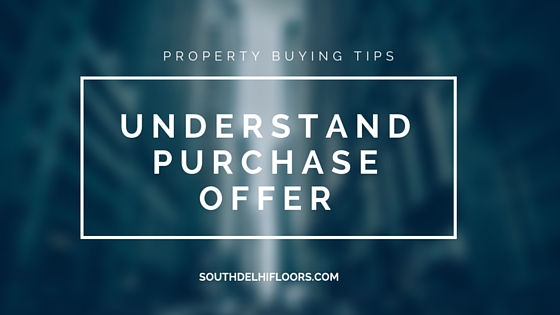 Let me explain you the Ins and Outs of buying Delhi Properties.
How Buying Offers Works :
Once a buyers shows some interest in your property after viewing probably it more than once, the next time is to have an offer from the buyer.
Once an offer has been submited at SouthDelhiFloors.com office by the buyer, The next step is to schedule a meeting with the buyer. In meeting, the buyer will specify his payment terms and conditions to make the deal suitable for both buyer-seller.
Breakup of an Offer :
Often offer to purchase a property in Delhi is a wordy thing, but it still contains elements or structure that are of great importance in making a property transaction successful.
Property Price : Despite the trends reflecting the current market price of a similar property, A buyer might make a property buying offer which might be lesser than the demanded price.
Advance : A down payment has to be given in good faith to acquire a set of property documents to legally verify the same.
Terms : Conditions such as 'subject to property inspection' , 'subject to document verification' , 'subject to loan approval' , 'subject to additional payment schedules'…
Property Inclusions and Exclusions : Generally, what the buyer expects to leave in the house for them and what you will take out of the property at the time of sale closing.
Time Frame : Payment Schedule, how long will the seller will take to exit the house….
Feel free to share this article if you find it useful for property transactions in Delhi.
Regards
SouthDelhiFloors.com
A-67 Defence Colony