Bagging a Real Estate Bargain – How to make it possible ?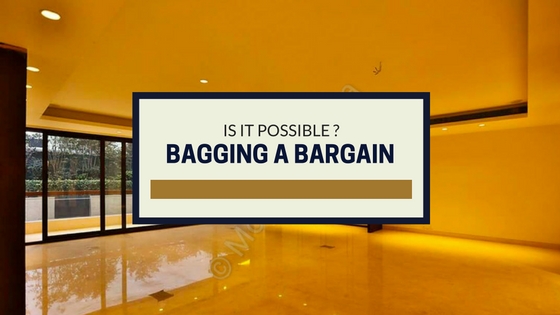 Everybody wants to buy a property by paying the least rate possible. Admit it, It is default human nature and especially when it comes to property market.
Real Estate Agents know this and hence we're inundated by ad listings with urgent language which says BUY NOW, ACT QUICKLY, DON'T MISS OUT, ONCE-IN-A-LIFETIME DEAL!
However, Getting the best buy or a "Bargain" in any real estate requires constant work, monitoring and is often about being in the right place at the right time.
Here are some of my top tips and tricks for how you go about securing a bargain in the first place :
Know the local market : Monitoring will lead you to be able to get a good deal when it arises. You should get off the computer and start doing a real estate site visit with your preferred agent. Make a log of every property you visit detailing its pros and cons.
Regular Touch : Make sure to show that you are a serious committed home buyer and stay in regular touch with the property dealer in your area of choice.
Be Ready : If you are about to take a loan to buy a property. You should keep your file with the bank as soon as possible, so that when the right deal arises. You are ready to go about it.
Be Practical : You should make a well thought property offer based on its merits such as location, construction quality….
Consider Under Construction Properties Also : Instead of just looking for Ready to Move Homes, You should also explore Under Construction Ones as you never know what kind of lucrative location and construction you might miss on.
Of course, if you simply don't have the time to properly consider everything out there,consider hiring a professional to do the work for you.
As South Delhi's No.1 Real Estate Company, it's our job to resarch, locate, assess and negotiate the right home for you, at the right price, every single time.